While it likely started as an April Fools Day prank, Twelve South is committing to producing its newest product — Stone'r — a marble base for your iPhone's MagSafe charger.
Stone'r is described as an "elegant marble charging base" for your iPhone 12 device when using MagSafe. Your MagSafe puck is inserted into the Stone'r which holds onto the puck. That allows you to pick up your phone without picking up the charging puck with it.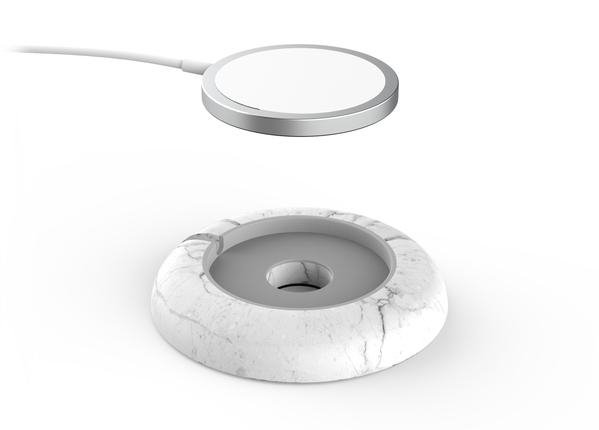 How Stone'r holds your MagSafe puck
By keeping your MagSafe puck in Stone'r, it also stops the puck from sliding off your desk or nightstand and onto the floor.
It's created from Banswara white marble which is quarried from mines in northern India. It is known for its luster and quality. Each Stone'r will have its own unique pattern of black and purple streaks.
Stone'r may sound like a joke given its April 1 launch, but Twelve South said if enough interest is generated, it will create the device. Users can order Stone'r for $5 off its eventual full price during the preorder phase. Preorders will run until April 20 — 4/20 — at which point if it has met its funding goal it will move into production.