Future MacBook Pro devices could be fully virtual as Apple is investigating creating them in AR, and also assessing when we need a screen break.
In the future, we may never again have to wait for UPS to deliver a Mac, we may virtually conjure one up in front of us. Put on your "Apple Glass," or other Apple AR device, and have the MacBook Pro of your dreams appear in front of you.
Apple already uses AR to show us what a Mac might look like on our desks, but a newly-revealed patent application goes much further. There still has to be an actual MacBook Pro somewhere, but the virtual one in front of you will respond to your key presses, and display what the real machine would.
"Augmented devices," is not concerned with where the real MacBook Pro is. It could be in your own office, you could be renting it remotely from a firm the way you can with Macminicolo's Mac mini server farm. The patent application focuses on how you use a MacBook Pro, or other device, virtually via a Head-Mounted Display (HMD).
"For example, an HMD may capture an image of a physical environment that includes a laptop," says the patent application. "The HMD may detect the laptop, send a request the laptop's content, receive content from the laptop (e.g., the content that the laptop is currently displaying and additional content), identify the location of the laptop, and display a virtual object with the received content in the CGR environment on or near the laptop."
"The size, shape, orientation, or position of the virtual object (e.g., a virtual monitor or monitor extension) may also be configured to provide a better user experience," it continues. So if you were sitting at a virtual 13-inch MacBook Pro and figured you could do with a bigger screen for a minute, it could reconfigure itself as a 16-inch model.
"In some implementations, a first device (e.g., a head mounted device (HMD)) provides a CGR environment that includes a view of the physical environment that includes one or more other electronic devices," says the patent application, " e.g., laptops, televisions, smart speakers, mobile devices, watches, smart speakers, Internet of Things (JOT) devices, etc."
So "Apple Glass," for instance, shows you a MacBook Pro on a desk — or seemingly an Apple Watch on your wrist. And then it takes your tapping and sends that to a real device as a click, a keystroke, or so on.
This is only one patent application out of the thousands that Apple applies for, and it's hard to imagine the company exiting the Mac hardware business. But if Apple ever seemed to be becoming more of a service company than a computer one, this might be the ultimate manifestation of it.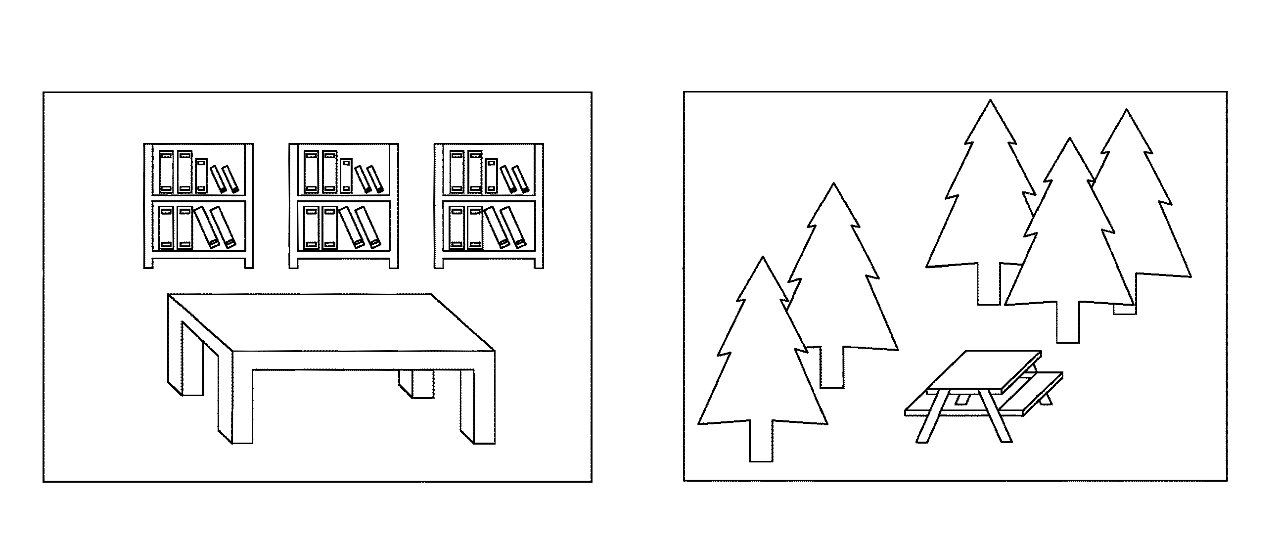 Apple AR could present one user with a quiet library environment, and another with an open-air one
Some things surely won't change, though, and that's actually demonstrated in a second newly-revealed patent application. "Creation of Optimal Working, Learning, and Resting Environments on Electronic Devices," is a detailed look into what's really the logical extension of Screen Time.
Imagine you're wearing your "Apple Glass," sitting at a virtual Mac, and deeply engrossed in your work. "In some cases," says the patent application, "users may not even be aware that they need a break."
Apple has previously researched having "Apple Glass" track your eyes to determine if you're interested or distracted, and this new patent application wants to use the same idea to determine if you're tired. "For example, the pupils of users may experience dilation or constriction at different rates for different cognitive states," it says.
There's more to it than seeing you're drooping after ten hours typing, though. This patent application is as much about making the working time pleasurable as it is about nudging you to take a break.
"Some users may like to work in a quiet environment with low light, whereas other users may prefer to work with music and bright light," continues Apple. "Clutter in a room or on a desk may increase creativity for some, but may be distracting for others. Similarly, the optimal resting environment is both individualized and contextual."
If you're wearing an Apple AR device, it could play music and present brighter images, for instance. Or when you need a break from your virtual MacBook Pro, it could remove it.
This patent application about work and rest is credited to six inventors, including Izzet B. Yildiz, Sterling R. Crispin, and Grant H. Mulliken. They previously worked on the patent application concerning how "Apple Glass" can detect if you're paying attention.
The augmented device patent application is credited to four inventors, most significantly including Timothy R. Oriol. His previous related work includes the concept of a privacy screen, where a device presents nothing on screen unless you are wearing "Apple Glass."
Stay on top of all Apple news right from your HomePod. Say, "Hey, Siri, play AppleInsider," and you'll get latest AppleInsider Podcast. Or ask your HomePod mini for "AppleInsider Daily" instead and you'll hear a fast update direct from our news team. And, if you're interested in Apple-centric home automation, say "Hey, Siri, play HomeKit Insider," and you'll be listening to our newest specialized podcast in moments.